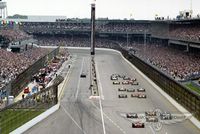 The post title is from a Firestone tire commercial. It summarizes what fans of the Indianapolis 500 feel every year. The Brickyard calls to us. I have always been a fan of IndyCar racing, and in particular, the Indianapolis 500. Now please, I'm not talking about NASCAR; that's something else entirely. I mean Indy. The Greatest Spectacle in Racing. "THE 500". The 2.5 mile paved track in Speedway, Indiana hosts around 300,000 people on Race Day each May. The track used to be paved with bricks back in the early days, giving it the nickname, "The Brickyard."
Having grown up in Indiana, the race has not escaped my notice from the earliest times I can remember. I remember pulling for Parnelli Jones and as a more mature eight year old, rooting for Al Unser, Sr. and listening to his back-to-back wins in 1970 and 1971 in the Johnny Lightning Special. As a teenager, my favorite was Tom Sneva - the first man to run over 200 mph at the Brickyard. When Sneva finally won in 1983, I felt like I had won it myself!
These days I don't have just one favorite. I'll be rooting for about a dozen or so, rooting against about another dozen and basically ignoring the other eight or nine. I've be fortunate to have met a number of these guys and have friends who work on the teams. Being an IndyCar fan and having strong opinions, I ended up meeting a lot of folks involved in the sport through an internet bulletin board site,
TrackForum
, which I help moderate. Even with involvement through the world wide web and decent television coverage from ABC Sports and ESPN, it's not enough. I need to be there. The Brickyard is calling me.
I got my first taste of the Indianapolis Motor Speedway back in the mid 70's when my parents took me to the first day of qualifying one year - Pole Day, when the top drivers try to outqualify each other for the first starting spot. I saw the sights I had only been able to imagine up to that point. Even the hazy images from the flickering television screen couldn't bring into focus the landmarks, the eccentric fans, the smell of hot rubber, and above all, the speed of those racing machines. It was a few years later before I was able to return. By the time I was in college, the Speedway was just a an hour's drive away and I got to be a regular visitor. One year my Buick Century overheated waiting in traffic to get in forcing me to push it into the nearest parking space so I could get in to watch the action.
The responsibilities of parenthood kept me away from the track for a couple of years also. I remember the first time my wife and I brought my two boys to Indy. They were six and four at the time and had very little idea of what they were about to see. After waiting for a morning rain to clear and the track surface to dry, they seemed only moderately interested as the race cars were pushed out to the track and even less impressed by the noisy engines when two cars pulled onto the track. But about 45 seconds later, I pointed their heads toward the proper place and told them,
"Now watch this!"
Moments later two brightly-colored IndyCars streaked by for the first time at nearly full speed -- over 202 mph -- and those two boys who were mildly bored were suddenly jumping up and down and cheering. The Brickyard began calling them that day.
It's May again. The cars are at the speedway. The drivers are preparing for qualifying, which begins this weekend. I have reports emailed to me throughout the day, telling me who's doing well in practice, how fast each car is going and what is new with the teams. I can pull up live timing and scoring from the track and watch the speed reports myself. A subscription service sends pictures of the cars. But this year is different. I won't be there for qualifying. Commitments here at home will keep me away. I may be able to get to Indianapolis for the final practice and then for the race itself, but that can't come soon enough for me. You see, the Brickyard is calling me.
Other things call me too. Like the Sirens' song which tempted Odysseus, I am called by all manner of sinfulness. Selfishness is usually the loudest and it's song makes me feel so good. Usually it is the background music for many of the other calls I hear -- prejudice, lust, impatience, laziness, unrighteous anger -- they all dance to the beat of the Selfishness Orchestra. These are calls which I must resist on my life's odyssey. But I can't. Certainly I can't resist on my own power. Mercifully I don't need to tie myself to the mast of my ship as our Greek hero did. I am empowered from within. Whenever I need that strength, it is there thanks to the presence of the Holy Spirit. Yet the call of selfishness tries to drown out all other songs. And I enjoy the beautiful music of selfishness so much that I often refuse the power to resist. I know that I can resist with His help, but I choose the rhythms of rebellion instead. And I often feel the same regret expressed by Paul in
Romans
:
I do not understand what I do. For what I want to do I do not do, but what I hate I do. And if I do what I do not want to do, I agree that the law is good. As it is, it is no longer I myself who do it, but it is sin living in me. I know that nothing good lives in me, that is, in my sinful nature. For I have the desire to do what is good, but I cannot carry it out. For what I do is not the good I want to do; no, the evil I do not want to do—this I keep on doing.
"What a wretched man I am!"
he continues in verse 24. I know the feeling, Brother Paul. I know the feeling.
But although sinfulness is calling me, so is my Heavenly Father. He calls me to obedience. He calls me to love Him. And He calls me to join Him in heaven someday. This final call is much like my call to the Brickyard. Even though I won't go to Indy exactly when I'd like this year, I know I'll get there eventually. And it will be great. So too, I know I'll get to heaven eventually. And I know it will be great. But oftentimes I don't have the same anticipation awaiting my trip to heaven as I do with my trip to the Brickyard. I know that I should. But I'm quite happy with what I've been given. I'm happy with the work I'm expected to do and with the tools I've been given to accomplish it.
So why am I not so anxious to get to heaven? Well, I'm sure it has something to do with the unknown vs. the known. And not just a little about taking care of the responsibilities I have here on earth - namely my family. But I know that even if God calls me home this afternoon that He will provide for my family. I've talked to a number of older people who were longing for heaven as soon as possible. As a 95 year old lady once told me,
"I'm ready to go home now."
I'm ready too. But I'd like to continue to enjoy what He has given me here for a little while longer or a long while longer. After all, I have an eternity to enjoy Him in heaven. And there are a few more people I'd like to bring along. Like my kids at the speedway, I'd like to be able to say, "Now watch this!" Then point then to Christ Jesus and watch them jump up and down and cheer that He died for them too. Then they, like me, will hear as our Heavenly Father calls to us, inviting us to come home.